About Me
Welcome to the website of Agnieszka Glowacka - painter, graphic artist, photographer and designer.
I graduated from the Graphic Department of W. Strzeminski's Fine Arts Academy in Lodz (Akademia Sztuk Pieknych w Lodzi im. W. Strzeminskiego, formerly PWSSP in Lodz) in 1990. My study specialization was graphic design and engraving. Diploma work was completed with the highest marks in graphic design and photography.
My diploma works

Excerpt of Agnieszka Glowacka's diploma work
have been used as model works not only in Poland, but also e.g. in Australia, and my paintings find their place in private collections in my country and abroad.
Since 1990 I've been professionally dealing with graphic design and photography, and active on the fields of drawing, painting and artistic and documentary photography. I worked as graphic design specialist in Promotional Departments of local government and self-government offices, as well as in local publishing agencies and graphic studios. I have managed to develop good co-operation with different companies and institutions. During that time I have created many graphical symbols, logos and signs, I designed many publications and arranged various promotional affairs. For instance, in 2000 the Lodz regional promotion stand prepared according to my concept for local self-government office, was awarded as "Best regional promotion" during International Tourist Fairs in Lodz.
In the years 2002-2003 there were issued two editions of Lodz promotional book:
"Zachowaj Łódź w sercu"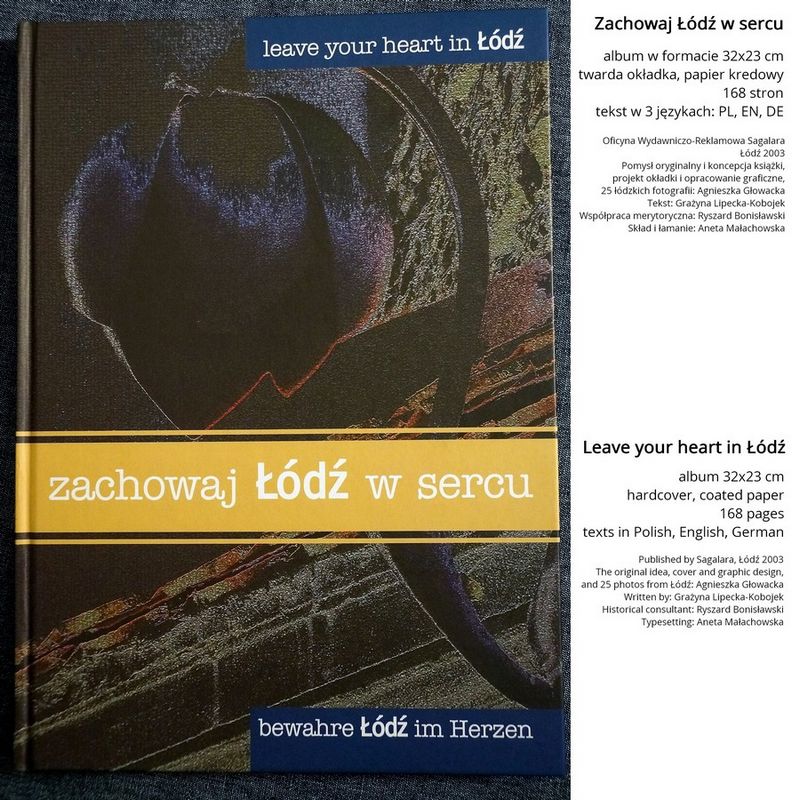 Front cover of 2nd editon of album about Lodz
(Leave your heart in Lodz) prepared according to my original idea and design, and containing my photographs.
During years of 2003, 2005, 2008, 2009, 2016 and 2018 there were individual exhibitions of my paintings, and from year 2009 I actively participate in various collective art expositions.
My retrospective exhibition of paintings "Intuition" on the occasion of the 30th anniversary of creative work took place in
Willa
municipial art gallery of Lodz in 2016. The text
"In search of an author"

"In search of an author" - Dominika Larionow
for my catalogue was written by Dominika Łarionow.
In 2018 I presented in Lodz gallery
"krótko i węzłowato"
a series of unique canvas paintings
Contemplation
- inspired by Japan culture.
"New Japanism"
collective exhibition hosted my paintings in 2019 during the 4th Autumn Festival of Japanese Arts
Bunkasai 2019
in Warsaw.
Bronze Winner Award in Tokyo International Foto Awards -
"TIFA 2019"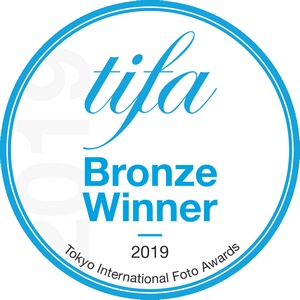 "TIFA 2019 Bronze Winner
for photography
"Incidental Auto-Portrait"
.
Four years with Incidental Auto-Portrait (2016-2020). Exhibition of selected frames in preparation:
see documentation
.
In year of 2022 new
diptych

"diptych"
"Summer Field Orihime" and "Summer Sky Hikoboshi" in mixed own technique on canvas 2 x 40 x 100 cm joined in 2022 my multimedia project
Contemplation
, and this year 2 new paintings "Onna Ume" and "Blue Textil" (100 x 100 cm)